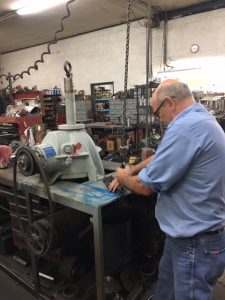 Clayton Electric Motor Repair has an experienced team able to repair a wide range of motors, pumps, gearboxes and related items. We have the right staff and equipment to properly diagnose the problem and provide a solution to get you back up and running.
We Repair and Service the Following Motor Types & Equipment:
Single Phase Motors
Three Phase Motors
AC Motors
DC Motors
Industrial Blower Motors
Pump Motors

Generators
Chain Hoists
Servo Motors
Gearboxes

Industrial/Municipal Pumps
IEC and Nema Motors
Brake Motors
Rotating Equipment


*If you don't see your motor, just call us to see if we can help!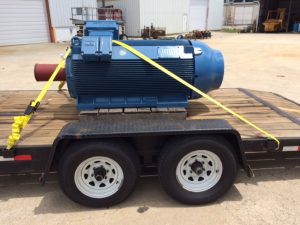 Clayton Electric's Motor Repair Services
Motor Bearings
Our skilled technicians will evaluate all parts in every unit we get in shop. Bearings are either replaced or regreased. We keep a wide range of ball and roller bearings in stock. Items not stocked are readily available. All repairs are test run after completion to eliminate any possible issues.
Shaft Grounding Rings
>Motors that are operated by Variable Frequency Drives (VFD's) risk damage to the motors bearings when electrical currents from the VFD flow back into the motor. We are able to evaluate the bearings in your motor and check for the signs of this issue known as fluting. If fluting is found, or to prevent the risk of fluting, we offer Aegis Grounding rings as a solution. There are several options available to eliminate the fluting, and we can help determine the best solution for you. The Grounding rings can be installed in our shop, or can be field mounted by your Maintenance Team.
Oil Seal Repairs
During the repair of gearboxes we closely inspect units for signs of oil leaks. When found we can determine if the shaft being worn is the cause or if a damaged seal is causing the leak. We stock a wide variety of oil seals for most common shaft and fit dimensions. If we do not have it in stock our sources generally can readily supply them to expedite repairs.
Turn & Undercut Commutators
DC motors commutators must be kept in good condition in order for the brushes to seat properly against them. We inspect and polish all commutators during their repair process. Commutators showing more significant signs of wear must be turned and undercut. Our team pays close attention to the detail of this process to ensure your motor is repaired as if it were as good as new.
Electrical Control Replacement & Repair
We have specialist who are able to offer service to your electrical controls and address repair of replacement components as needed. We can send you replacement parts to install on you own, or provide a Service Technician to come onsite to diagnose your problems. Our efforts and concerns are always to get our customers back up and running as soon as possible.