With our expert team of winders, you can rest assured we will take care of your motor rewind needs quickly and accurately. Rewinds can be performed on the smallest fractional horsepower specialty motor up to large industrial 600 horsepower motors. Just give us a call or fill out the form on this page with the details and we will get back to you right away with pricing details.
Our Motor Rewind Service
---
Verified with EASA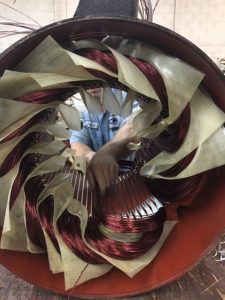 Any job that was not previously wound by our team gets the winding data verified with our EASA software prior to making the coils. This assures the coils will be correct and eliminates the risk of having an error in the prior rewind. By taking this step, we eliminate extra down time for the customer making sure it is done right the first time.
Winding Materials
Every rewind performed receives the highest quality of materials to assure a job that will provide longevity and eliminate downtime. Inverter Duty magnet wire and class "H" insulation materials are used on every rewind to provide the longest life possible. The quality of materials used at our facility often times gives the customer a rewind that exceeds its original factory specification.
Inverter Duty Magnet Wire & class "H" Insulation
The magnet wire and insulation products used in a rewind are very important to the longevity of the motor. Inverter Duty magnet wire was developed to improve the life expectancy of a rewind in a variable frequency drive (VFD) application. Drives (VFD's) cause higher temperatures to exist while running a motor at a varied speed. By using these materials in combination we know that this gives every motor rewound at our facility the highest resistance to heat available. The end result is longer run times from our repairs.
Varnish/Dip and Bake Process
Our process requires all rewinds to be dipped in varnish and baked to assure full coverage and coating of the wire. We perform the process twice for an extra layer of protection. This coating process makes the wire very rigid and firm. After a cool down period, any excess varnish is removed and the windings are tested prior to reassembly.